LA-IMPEX Co. wurde in 1994 gegründet.

Wir sind  ein Leder-, Pelz  Händler und Handwerker Betrieb. Unsere Handelsartikel  (Leder und Pelz) werden hauptsächlich in Ungarn oder in unseren Nachbarländern gemacht oder gebräunt, in einer Gerberei, die eine der Wichtigsten ist.

Neues Bürogebäude und Lager

In August 2012 haben wir das Bau unseres neuen Bürogebäude und Lager begonnen, (PHOTOS») wir haben dieses Projekt beendet und sind uns in das neue Gebäude in September in 2015 übersiedelt.


Zum Dank für das neue Gebäude können wir eine breitere Angebot der Produkten anbieten, sowie können wir die Wünsche unserer Kunden mehr präzis und schneller erfüllen.
Wir erweitern immer unsere Geschäftsverbindungen und die Wahl der Produkte. Wir nehmen regelmäßig an internationalen Fachmessen teil, namens LINEAPELLE, MIFUR, usw. und wir werden als eine der Haupthändler mit Nerz, Fuchs, Chinchilla in unserem Land betrachtet.

Wir sind Mitglieder der Ungarischen Pelzhandel Assoziation

LA-IMPEX geschichte ›››

_____________________________________________________________________________________________

Moldovan - Hungarian Business Forum in Chisinau

12 March 2020. Chisinau

The owner of LA-IMPEX Kft. János Lamoga – who is also the chairman of Hungarian Fur Trade Association - travelled to Chisinau - as a member of the business delegation lead by Prime Minister Viktor Orbán – to participate at the Moldovan – Hungarian business forum.

Prime Minister Viktor Orbán and the Moldovan Prime Minister Ion Chicu talked on close economic cooperation. The whole of the European Union has a vested interest in forming strategic partnerships with countries lying at its Eastern borders, including Moldova - Prime Minister Viktor Orbán stated in Chisinau. He added, they wish to extend the already ongoing cooperation to agriculture, furthermore he indicated that a credit line worth USD 100 million had been opened in the interest of promoting mutual economic activities. At the forum János Lamoga personally informed the Prime Minister Viktor Orbán about the present situation of the Hungarian fur and leather industry and the difficulties concerning the sector.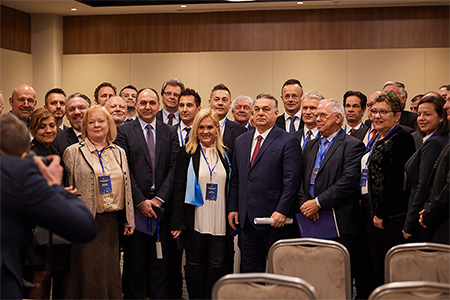 the photo can be enlarged