LA-IMPEX Co. was established in 1994.
We are leather-, fur trader and manufacturer company. Our merchandises (leather and fur) are made or tanned mainly in Hungary or in our neighbour countries, in tannery in which we are one of the main principal.
New office-block and warehouse

In August 2012 we started building our new office-block and warehouse (PHOTOS»), we finished the project and we moved into the new building in September of 2015.

Thanks to new building we can offer wider range of products, as well as we will be able to fulfil the wishes of our clients in a more precise and quicker way.
We are continuously expanding our business relations and range of our products. We are regular exhibitor on international fairs such as LINEAPELLE, MIFUR, etc. and considered one the main trader of mink, fox, chinchilla in our country. We are the member of Hungarian Fur Trade Association (HFTA).

The LA-IMPEX story ›››
____________________________________________________________________________________________
Moldovan - Hungarian Business Forum in Chisinau

12 March 2020. Chisinau

The owner of LA-IMPEX Kft. János Lamoga – who is also the chairman of Hungarian Fur Trade Association - travelled to Chisinau - as a member of the business delegation lead by Prime Minister Viktor Orbán – to participate at the Moldovan – Hungarian business forum.
Prime Minister Viktor Orbán and the Moldovan Prime Minister Ion Chicu talked on close economic cooperation. The whole of the European Union has a vested interest in forming strategic partnerships with countries lying at its Eastern borders, including Moldova - Prime Minister Viktor Orbán stated in Chisinau. He added, they wish to extend the already ongoing cooperation to agriculture, furthermore he indicated that a credit line worth USD 100 million had been opened in the interest of promoting mutual economic activities. At the forum János Lamoga personally informed the Prime Minister Viktor Orbán about the present situation of the Hungarian fur and leather industry and the difficulties concerning the sector.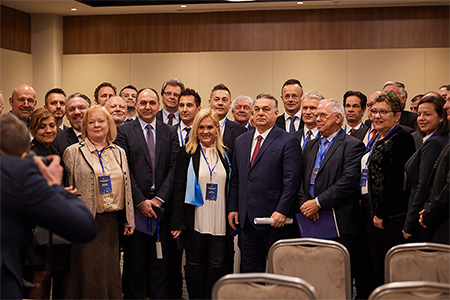 the photo can be enlarged